Kangaskoski is located near the state border
Kangaskoski is the lowest rapid on the Finnish side of the Hiitolanjoki River, located about a kilometer from the Russian border. The height difference of Kangaskoski is about 4 meters. The average annual electricity generation is 3300 MWh.
The industrial history of Kangaskoski dates back over a hundred years. At the beginning of the 20th century, when the export business at the abrasive and paper mills became more complex, Aktiebolaget Simpele, the predecessor of the United Paper Mill, bought Kangaskoski and the border Syrjäkoski for electricity production. The Kangaskoski hydroelectric station, designed by Hugo Eklund and built by Suomen Rakennus Oy, was put into operation in 1925.
Kangaskoski Dam was be demolished in 2021
Kangaskoski Power Station is owned by Hiitolanjoen Voima Oy, which was transferred to the South Karelian Recreation Area Foundation in October 2019.
Today the dam is demolished and the natural riverbed, which was used as a bypass channel since the beginning of the 20th century, is again filled with waters forming natural rapids, where salmon can rise upstream.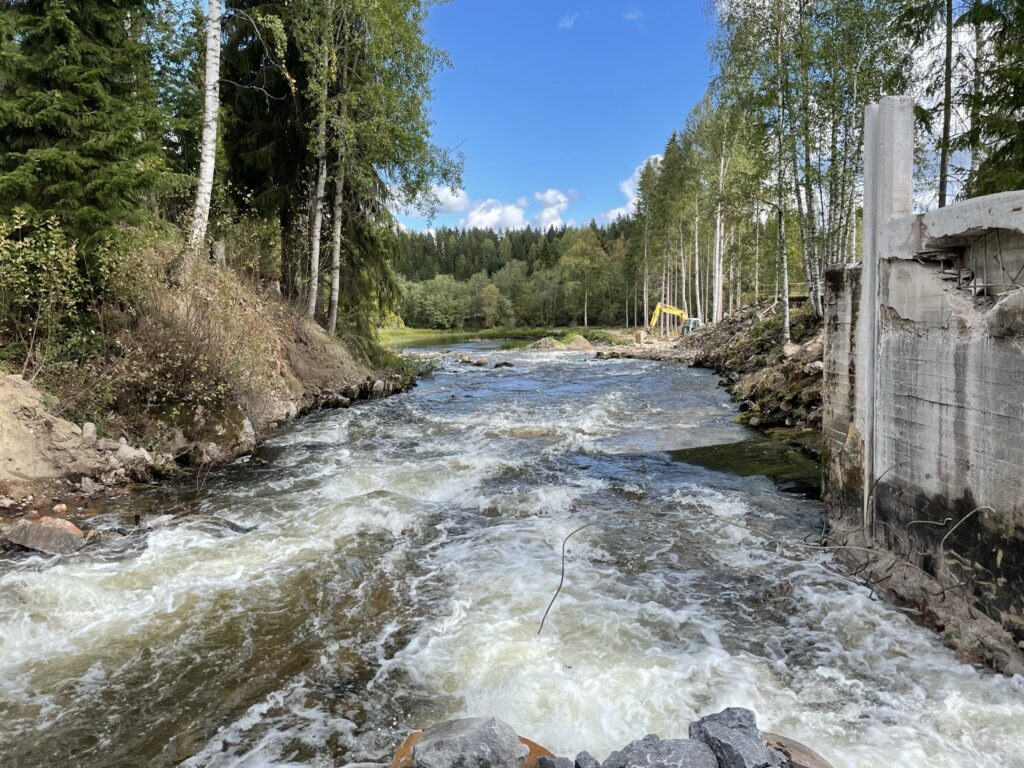 Kaplan turbine – as a museum attraction
Kangaskoski power plant used, for the most part, the original technological components of the power plant till theend of production of electricity in 2021. Technological components include: the first Kaplan turbine (Tampella 1924), made in Finland, and a control unit from the time of construction. In Kangaskoski power pland building is protected as a cultural heritage at it will be a hydro power museum.
On-line camera for observing fish in Kangaskoski in October 2019
A WWF-installed live camera was used to monitor the spawning of salmon fish off the Kangaskoski lean-to during October. See video summary of events and river dwellers!